Himalayan Journal of Development and Democracy (HJDD)
Himalayan Journal of Development and Democracy (HJDD) is a peer-reviewed academic journal on all issues of development and policy.

The journal invites papers in socio-economic growth (macro or sectoral, i.e., agriculture, industry, and services), poverty and income distribution, education and health, regional development, gender and ethnicity, trade and remittances, aid and foreign direct investment, resource and environmental management, political economy of development, political transition and institutional development, governance and administrative reform, public-private partnership in technology and investment, child labor, and many other issues.

The papers could look at comparative development between South Asia and other regions as long as they provide lessons for South Asia. The papers are expected to provide robust analysis of issues and yield significant implications for public policy in one or more countries of South Asia. HJDD proposes to fill the existing void in the coverage and contextual understanding of issues and trends related broadly to development and democracy in South Asia.

Library of Congress ISSN 1940-2821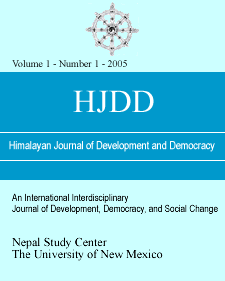 ---